contact us: davidnewsroomtaiwan@gmail.com
目前分類:10 newspaper (3)
出現在"Tops of the Pops"區塊喔!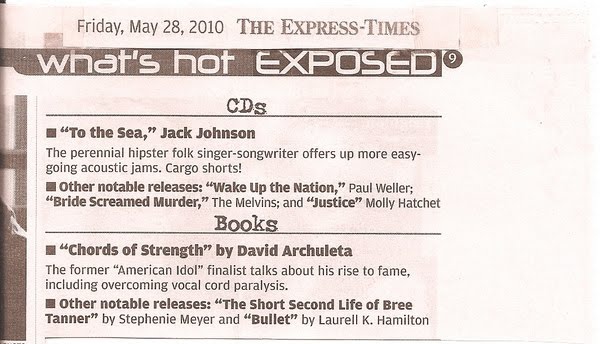 credit:jeffrfod@twitpic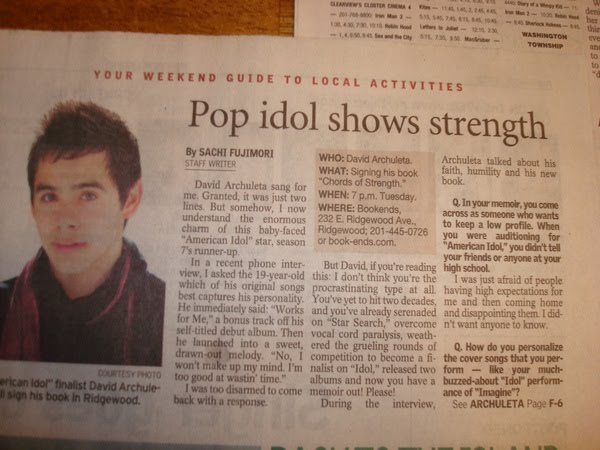 credit:Snarky Archies

WHO: David Archuleta.
WHAT: Signing his book "Chords of Strength."
WHEN: 7 p.m. Tuesday.
WHERE: Bookends, 232 E. Ridgewood Ave., Ridgewood; 201-445-0726 or book-ends.com.

David Archuleta sang for me. Granted, it was just two lines. But somehow, I now understand the enormous charm of this baby-faced "American Idol" star, season 7's runner-up.

In a recent phone interview, I asked the 19-year-old which of his original songs best captures his personality. He immediately said: "Works for Me," a bonus track off his self-titled debut album. Then he launched into a sweet, drawn-out melody. "No, I won't make up my mind. I'm too good at wastin' time."

I was too disarmed to come back with a response.

But David, if you're reading this: I don't think you're the procrastinating type at all. You've yet to hit two decades, and you've already serenaded on "Star Search," overcome vocal cord paralysis, weathered the grueling rounds of competition to become a finalist on "Idol," released two albums and now you have a memoir out! Please!

During the interview, Archuleta talked about his faith, humility and his new book.

Q. In your memoir, you come across as someone who wants to keep a low profile. When you were auditioning for "American Idol," you didn't tell your friends or anyone at your high school.
I was just afraid of people having high expectations for me and then coming home and disappointing them. I didn't want anyone to know.

Q. How do you personalize the cover songs that you perform — like your much-buzzed-about "Idol" performance of "Imagine"?
I think you have to believe in what you're really singing, and really feel something as you sing. When you believe, there's a connection and a truth in what you're saying. The truth is what hits people. In "Imagine" you're imagining a situation of how things can be, imagining what it's like. People will feel that. So many people connect to that. It's what I love about music.

Q. You talk about your faith and prayer a lot in the book. And you're from Utah. Are you Mormon?

Yes.

Q. Why didn't you mention that in the book?
I didn't mention that? I don't like flaunting my beliefs. People know it's a big part of my life. I don't think it should be all flashy and showy. The book is supposed to be who I am. People want to know why (I'm) the way I am and why I'm doing these things. I'm not perfect. I'm happy to help other people be happy, that's what life is all about.

Q. You mention that running is a hobby. Are you still a runner? Do you want to run a marathon someday?
I recently messed with my leg. I didn't stretch. Oh, bummer. The other night I got some new sweat pants. You know, I really want to do a marathon. I'm not going to be the fastest person. But I can say I did the marathon.

Q. What projects do you have coming up?
I'm working on my second pop album. I've been writing a lot. What's cool about writing is you get to show more of you. On "American Idol," fans get to know you as a person. (But) you don't have any of your own songs.

Q. You're only 19; do you picture yourself putting out albums well into your senior years?
Sure, I would love to. I loved music since I was little. … I don't see myself quitting. It's such a part of who I am. Tony Bennett has been doing this for years. He's still doing it and still sounding great. I don't think you can get sick of music.

Q. How are your vocal cords doing after the partial paralysis you suffered a few years ago?
It's just really amazing, my voice has learned to work around it. I feel fine. I can go for hours recording and get through a whole set jumping around on the stage. I feel really grateful. It can be easy to give up. I just feel I have to thank God. You're not always the one in charge.
credit:NorthJersey