Heartbeat Cafe的主持人最近終於有機會參加大衛的演唱會,還很幸運的得到VIP喔!接下來的兩個禮拜天他會做跟聖誕節有關的節目及回顧2009年,他也預告一定會播放大衛的歌喔!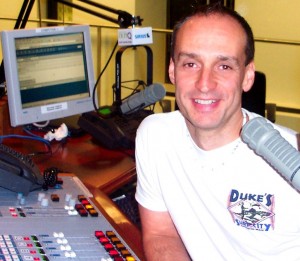 First I want to start off this latest newsletter by wishing you all  H A P P Y  H O L I D A Y S!  It's been a great year for the Heartbeat Cafe, mainly because of all of the new listeners that have found the show in 2009, especially all of David Archuleta's wonderful fans who were so kind and supportive this past fall during my Christmas From The Heart feature!
On that note, I am just back from seeing my very first David Archuleta live concert and what an experience it was!!!  I feel totally inspired and re-juvented today by David's wonderful performance in Montclair NJ last night. David's voice was so clear, powerful and right on the money all night,
BUT the most amazing part of the evening for me, was getting to go backstage and meet David after the show. I am soooo thankful that I was able to manage a VIP pass via Heartbeat Cafe, with many thanks to Lauri Archuleta!
You guys can visit www.patmarino.net in the coming days to see my personal pics from the NJ concert and my backstage picture with David!
Finally, I wanted to share some upcoming highlights for the remaining 2 editions of The Heartbeat Cafe for 2009:
This coming weekend (December 22nd) is my annual Christmas show! This is a continuation of what I used to do on Satellite radio around holiday time, which is a 3 hour block of beautiful, peaceful and spiritual holiday songs. These are some of my own personal favorites and MANY songs off of David Archuleta's Christmas From The Heart will be woven into the mix this year.
Then on (December 27th) it's the last show of the year and "The best of 2009″.  I will talk about my favorite songs and moments from the past year and David's songs will ceratinly be among those.
So I hope you'll be able to tune in the next 2 Sunday's and if not….  No worries – Podcasts of both shows will be up at www.heartbeatfm.biz/heartbeatcafe.htm
Again…..Thanks for all the love in 2009.  I wish you all…..Peace, Health, Happiness, Love and Fulfillment in 2010.
Pat