Hey everyone. I'm on my 14 hour drive home. I thought I'd recap yesterday's VIP for all of you. I'm not driving at the moment, don't worry.
Where do I begin? There were 49 of us. David came in the room with Ashley. She's really nice. He talked about how he just saw the ENT doctor. He said it was just allergies. He picked up a glass and took a sip and someone asked him what he was drinking? He said throat coke. We were like what's that? He said it was this herbal tea stuff .He was playing around on the keyboard asking us what he should sing. People shouted out Imagine, Desperate, I'll Be, but those were too straining for his voice. He said they were really hard to sing. Then he mentioned about singing the correct way and the wrong way, and how it's easier to sing the wrong way but it's so bad for your voice. Then he made some kind of analogy to a tree growing lol. I don't remember it but it was cute.
Ok so someone asked him to sing TBWY and he said that he could sing that. It was beautiful. So then he asked what else he should sing and he mentioned that it was Ashley's last day there with him, and he tweeted about that. So we asked them to sing Lean On Me, and David was trying to think of other songs they sung together. He was playing with keys on the keyboard trying to remember songs. He mentioned Prayer Of The Children, and we got all excited, but he said it's been a while and he couldn't remember all the words. So he was playing Lean On Me on the keyboard, and we all said to sing that! Ashley came over and sat next to David, and that performance was so cute. Like they didn't know when to end the song. He told her to keep singing, so she'd keep singing, and then he'd stop, and then she'd be like you stopped! It was pretty funny! They sounded so great together.
David was talking about his AI audition and how he had to keep it a secret til the show aired but when they played the commercial for it, David and Ashley were in the car, he was driving and got a text message so he asked her to read the text for him. The text was from one of his friends that just saw him in the AI commercial! Ashley was like WHAT! And she said she KNEW IT!!! It was funny so then he was naming his other friends that found out, and he said he wasn't supposed to tell us his friends names ha ha! I won't repeat them.
Ok so Q and A. A little girl asked him HHS favorite song right now and he said he couldn't decide. He asked what hers was, and she said she didn't know either, it was cute. Another question was when did be start playing piano? He said when he was 13 or 14. Then he started to talk about his piano teacher, and how he was taking lessons, and then his piano teacher stopped coming over to give him his lessons. David said he didn't know why and prayed for him to return. Then he found out from his friend at school that his piano teacher had moved without telling David. David said he only played piano for a year and didn't start playing again til AI. I'm sorry; I can't for the life of me think of the other question. Ok onto pictures.
Oh while David was waiting for the questions, he was doing his little voice warm ups and verbal exercises. It was cute. There was this really sweet grandma in front of me. She LOVES David so much, she was hugging him and talking to him and he just lit up. She didn't wanna leave him, or let him go! It was the sweetest thing to see how David interacted with her. HollyR from FOD brought a letter for David from a very ill 6 year old little boy. It was a thank you note to David because David had sent this little boy a letter in the mail. They even had a bracelet for David to wear in honor of the little boy. David put it on right then and wore it in the picture along with holding the thank you note. I was tearing up at that point, ok so my turn.
David had a huge smile on his face and he said HEY! How have you been! I told him fine and that we came from Texas to see him and he said I Know! He asked how long of a drive it was? I told him 14 hours. He said WOW! Well thanks for coming! he said I'm sorry about my voice , I hope it was up to par for you . I said are you kidding me, David you were Awsome! He said aww thanks! I told him I have some extra letters from other fans in with my gift, and one of them is from my friend in Israel. He said aww really, thanks! I told him to feel better and take care of his voice, and he said thank you, I will. Oh I hate my pic btw so I don't think I'm gonna post it, I'll have to think about it haha.
David was so bubbly and chatty yesterday even though he was sick. Oh I forgot, we told him it was national lefty day, so he asked who all was left handed. I of course raised my hand. It was fun. Then he tweeted about it. Just like he tweeted about it being Ashley's last day there. He told us her Birthday is Monday and they went out to dinner on his day off in Nashville to celebrate. Sorry, I keep remembering things after I posted the recap Kristen said he's never been this chatty. This VIP was EPIC! I wish all of you could have experienced it!
Of course the concert was so great too. I was really worried about David's voice. He's such a trooper! I talked to Ray a bit after David's set and told Ray how much we appreciate everything he does for David. He was really surprised to find out we drove from Texas for the show. I told him It was for David, and the 14 hour trip was worth it! Ray is just AWESOME!
I'd just like to take a moment say hi and thanks to all of the AMAZING people I've met through FOD, I'm sorry, I can't remember everyone's names, but I had such a blast hanging out with you lovely ladies
Take care and God bless everyone!
Oh here's my VIP pic. I don't like it, but David looks incredible as usual. I think I had way too many Red Bull and not enough sleep before the VIP. That explains the deer in the headlights look and not so great smile. oh well, enjoy, ha ha
Oh and here's my pic with Mike and Dave, and Kristin, is the best! I just love her!
-Michelle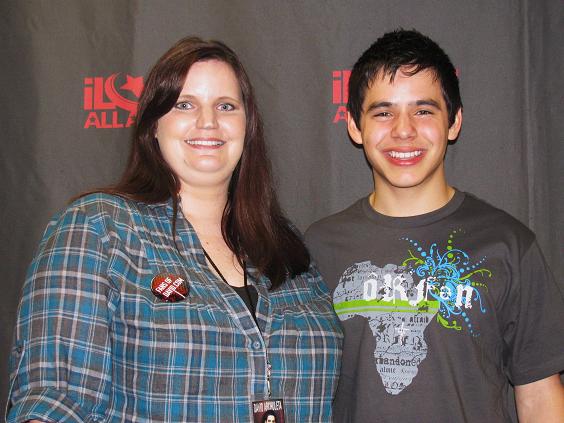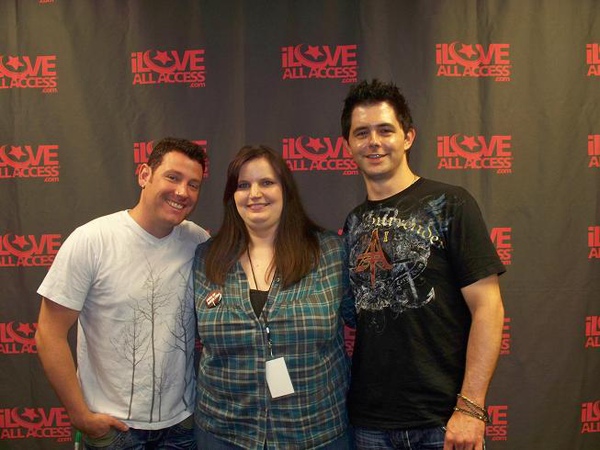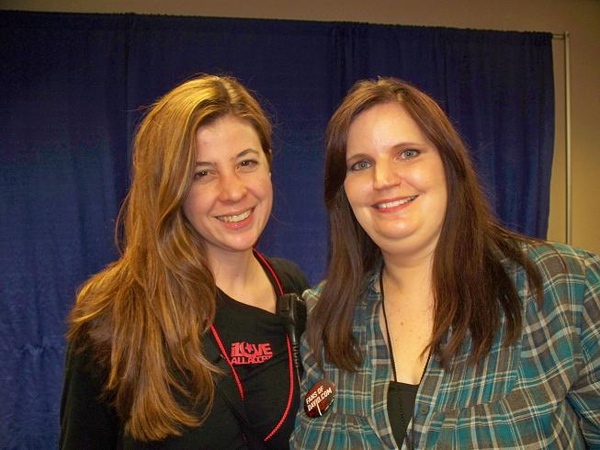 credit:Fans of David Archuleta