這篇簡直像是Jive寫的宣傳稿!!!而且出自像examiner這種大媒體實在是史無前例,對大衛最近的行蹤巨細靡遺的報導,慈善活動,twitter trending party,最後連fanmail地址都附上了,哇!!!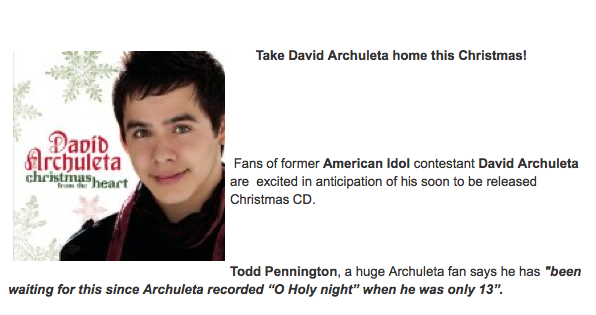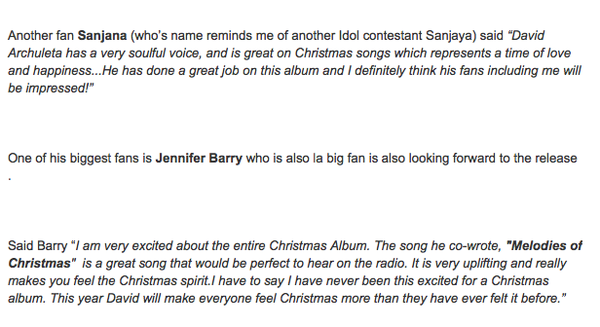 Songs include:
Joy to the world
Angels we have heard on high
O come all ye faithful
Silent Night
O Holy nightHave yourself a Merry little Christmas ***duet with Charice Pempengco***
Pat a Pan
What child is this
Ave maria
Melodies of Christmas


Archuleta's album is set to be released on October 13, however, you can get the digital download starting October 9 at www.amazon.com. The songs include the standard Holiday favorites as the original song he co wrote titled Melodies of Christmas. he also joined in a duet of "Have yourself a Merry little Christmas" with Filipino powerhouse singer Charice Pempengco ,who rose to international fame through Youtube.

David, always the philanthropist is also making it possible for fans who may not be able to afford to receive his new CD as a gift. He offers a program called "Gifting" which allows his fans to own his music–legally, when they can not purchase it, for whatever reason.
His fans on Twitter have also started a campaign called "Twitter Trending". It starts October 13 at 7:00 pm. They are asking Archuleta's fans to Tweet something positive about his new CD. This Tweeting should generate quite a buzz for the teen star.
Archuleta is still touring with fellow teen sensation Demi Lovato and his Christmas from the Heart Tour. He also continues to work with numerous charities across the world. Below is a promotional video of David's fans trying to sell an amazing one of a kind quilts made by fans and signed by David and all proceeds benefit RSO. The quilt is currently on Ebay!
David's Charities:
countingdavidscharacter.blogspot.com/2009/03/change-for-change.html
http://risingstaroutreach.org/archuleta
http://angelsforacause.ning.com/
archuletafanscene.com/2009/10/07/new-voice-message-from-david-archuleta-2/
TWITTER TRENDING PARTY! 10/13/09 http://twitter.com/fanscene
When: October 13th 2009?Time: 7pm EST (4pm PST)?What: #ArchuletaXmasCD?How: Just tweet something like this: "Wow! I absolutely LOVE the new #ArchuletaXmasCD 'Christmas From The Heart!' In stores today! :D"
Be there or be square!
DAVID ARCHULETA 2009 SUMMER TOUR WITH DEMI LOVATO / JORDAN PRUITT / KSM
Thu, 10/29/09 - 07:00 PM - Verizon Wireless Arena Manchester - Manchester, NH
Fri, 10/30/09 - 07:00 PM - Dunkin' Donuts Center - Providence, RI
Sun, 11/01/09 - 04:00 PM - Trump Taj Mahal - Atlantic City, NJ
DAVID ARCHULETA 2009 CHRISTMAS FROM THE HEART TOUR
Fri, 12/04/09 - Rexburg, ID - BYU Idaho - Hart Auditorium - 7:30 PM.
Fri, 12/11/09 - Waukegan, Illinois - Genesee Theatre. Tickets on sale October 16th.
Fri, 12/18/09 - Stroudsburg, PA - Sherman Theatre.
Fan Mail Address
DAVID ARCHULETA
C/O AZOFF MUSIC MANAGEMENT
1100 GLENDON AVE, STE 2000
LOS ANGELES, CA 90024-3524
U.S.A.