AI9的比賽都已經進入白熱化階段了,不過大衛還是常常被拿來比較,可見大衛在AI的表現真的不是蓋的。最新一期的AI雜誌甚至還做了個不錯的大衛專題報導喔!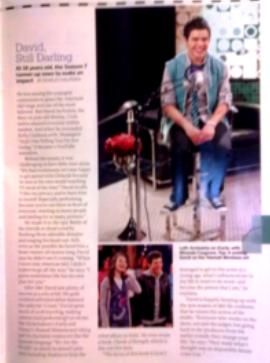 credit:Snarky Archies
David, Still Darling

At 18 years old, the season 7 runner-up vows to make an impact
BY SHIRLEY HALPERIN

He was among the youngest contestants to grace the American Idol stage and one of the most beloved. But David Archuleta, the then 16 year old Murray, Utah, native amazed everyone within earshot. And when he serenaded Kelly Clarkson with Dreamgirls' "And I Am Telling You, I'm Not Going;" it became a YouTube sensation. Behind the scenes, it was challenging to have little time alone. "We had roommates, and I was happy to get paired with Chikezie because he was in his own world watching TV most of the time, " David recalls. "I like my privacy and to have time to myself. Especially performing, because you're out there in front of everyone, meeting so many people and smiling for so many pictures."

He made it to the epic Battle of the Davids at show's end by flashing those adorable dimples and singing his heart out. Still, even as the pundits declared him a front runner all season long, David says he didn't see it coming. "When I went into American Idol, I didn't expect to go all the way, " he says. "I guess life has its own plans for you." After Idol, David saw plenty of success as a solo artist. His gold-certified self-titled debut album featured the radio hit "Crush." David spent much of 2008 traveling, making cameos (and performing!) on shows like Nickelodeon's iCarly and Disney's Hannah Montana and taking part in charitable endeavors like the Spanish-language "We Are The World," in which he joined Latin stars including Shakira to help the relief efforts in Haiti. He even wrote a book, Chords of Strength, which is due out this June. "The focus on this book is how I managed to get to this point at a young age, what's influenced me in my life to want to do music and become the person that I am," he explains.

David is happily keeping up with the new season of Idol. He confesses that he misses the action of the studio. "Everyone who works on the show, not just the judges, but going back to the producers from the earlier rounds, they change your life," he says. "They made what I thought was an impossible dream come true."