大衛排在#9!!!美中不足的地方是大衛的新書已經發行了...但除此之外,整篇文章非常詳細的列出大衛的成就喔!!!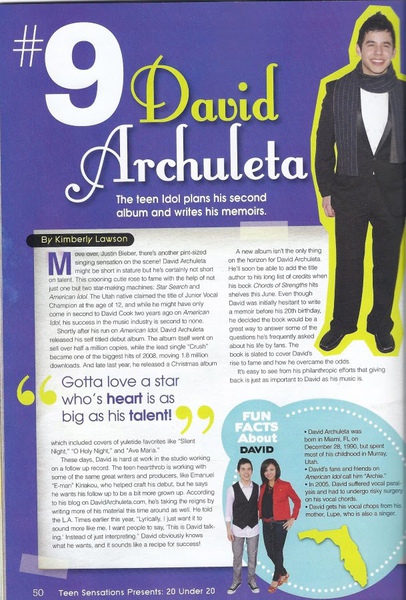 Move over, Justin Bieber, there's another pint-sized singing sensation on the scene! David Archuleta might be short in stature but he's certainly not short on talent. This crooning cutie rose to fame with the help of not just one but two star-making making machines: Star Search and American Idol. The Utah native claimed the title of Junior Vocal Champion at the age of 12, and while he might have only come in second to David Cook two years ago on American Idol, his success in the music industry is second to none.

Shortly after his run on American Idol, David Archuleta released his self titled debut album. The album itself went on to sell over half a million copies, while the lead single 'Crush' became one of the biggest hits of 2008, moving 1.8 million downloads. And late last year, he released a Christmas album which included covers of yuletide favorites like 'Silent Night', 'O Holy Night', and 'Ave Maria'.

These days, David is hard at work in the studio working on a follow up record. The teen heartthrob is working with some of the same great writers and producers, like Emanuel 'E-man' Kiriakou, who helped craft his debut, but he says he wants his follow up to be a bit more grown up. According to his blog on DavidArchuleta.com, he's taking the reigns by writing more of his material this time around as well. He told the L.A. Times earlier this year, 'Lyrically, I just want it to sound more like me. I want people to say, 'This is David talking.' Instead of just interpreting.' David obviously knows what he wants, and it sounds like a recipe for success!

A new album isn't the only thing on the horizon for David Archuleta. He'll soon be able to add the title author to his long list of credits when his book Chords of Strength hits shelves this June. Even though David was initially hesitant to write a memoir before his 20th birthday, he decided the book would be a great way to answer some of the questions he's frequently asked about his life by fans. The book is slated to cover David's rise to fame and how he overcame the odds.

It's easy to see from his philanthropic efforts that giving back is just as important to David as his music is.

Fun facts about David
-David Archuleta was born in Miami, FL on December 28, 1990, but spent most of his childhood in Murray, Utah
-David's fans and friends on American Idol call him 'Archie'
-In 2005, David suffered vocal paralysis and had to undergo risky surgery on his vocal chords.
-David gets his vocal chops from his mother, Lupe, who is also a singer.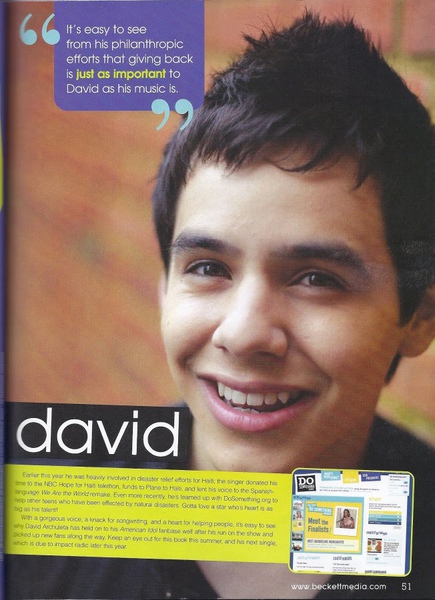 Earlier this year he was heavily involved in disaster relief efforts for Haiti; the singer donated his time to the NBC Hope for Haiti telethon, funds to Plane to Haiti, and lent his voice to the Spanish language We Are the World remake. Even more recently, he's teamed up with DoSOmething.org to help other teens who have been affected by natural disasters. Gotta love a star who's heart is as big as his talent!

With a gorgeous voice, a knack for songwriting, and a heart for helping people, it's easy to see why David Archuleta has held on to his American Idol fanbase well after his run on the show and picked up new fans along the way. Keep an eye out for this book this summer, and his next single, which is due to impact radio later this year.
credit:Snarky Archies