一個13歲粉絲對馬尼拉演唱會的觀後感,文筆真的很不錯,把大衛的魅力表達無遺。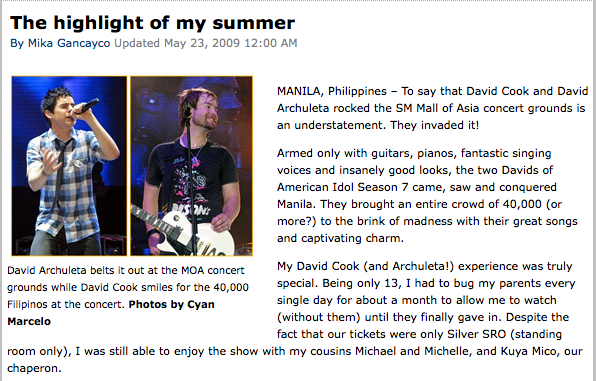 I was anxious early in the night, even before arriving at the concert venue, thinking that the SRO crowd would be so massive that we would be literally squished elbow to elbow, and toe to toe. But upon entering the Silver gate, we were surprised to find open spaces at the back of the Silver section. We immediately found our spot just a few steps away from the TGI Friday's booth, with a clear view of the overhead screen that projected close-up shots of the performers. Imagine our luck, a few feet away from great food, a clear view of the screen (and the two gorgeous Davids!), and a lot of space to call our own! Silver gate tickets aren't too bad after all!
David Archuleta opened the show with Touch My Hand, a song from his album Zero Gravity. I went almost crazy as he went on to serenade the crowd with more songs including my favorites A Little Too Not Over You and of course, Crush. Not a note out of tune, I adored him even more because of his wonderful voice and really great looks.
Archie, as fans call him, inspired me to learn to play the piano well with his special set performing a few cover songs accompanying himself on the keyboard. He sang and played A Thousand Miles by Vanessa Carlton, and revived a song titled Angels. Archie ended his set with a very sincere "Sah-lah-mat poh (thank you)."
The other David, the American Idol Season 7 champion, jump-started his set with upbeat tunes. Of course, the highlight of the set was when he sang Always Be My Baby, the chart-topping revival of Mariah Carey's 1995 single. At this point, all the screaming girls, all the hesitant boys dragged along by their girlfriends, all the suddenly-fanatic moms, all the grumpy dads who were there just for their daughters, and even all the bouncers and staff of the event, were all singing along with David.
Before moving on with his set, Cook went on to charm the Filipino audience."I'm going to say something, but please forgive me if I butcher it," he said. "Mah-ghan-dang gah-bee (good evening)." The Filipino audience just loved it.
Cook ended the concert with an encore set of his smash hit Light On, and two more songs from his album. For the grand finale, he performed his final song A Daily Anthem, which he touchingly dedicated to his late brother who passed away only last May 2 because of cancer.
During the bridge of the song, Archie made a special appearance, to the delighted screams and cheers of the audience. In unison, 40,000 (or more?) people raised and waved their hands to the beat of the song. People from all walks of life came together for that one moment when they all sang as one with David Cook and David Archuleta. David Mania has indeed conquered Manila!
It was an absolutely amazing night. The fantastic show of two of the most handsome singers in the world (at least, in my opinion) is definitely the highlight of my summer, just before I start my freshman year in high school.