大衛說"Christmas sweaters"和他穿毛衣怕把頭髮弄亂,用兩隻手把領口撐開的樣子值得一座奧斯卡金像獎!Jim的寫作風格把人笑死,要仔細讀哦!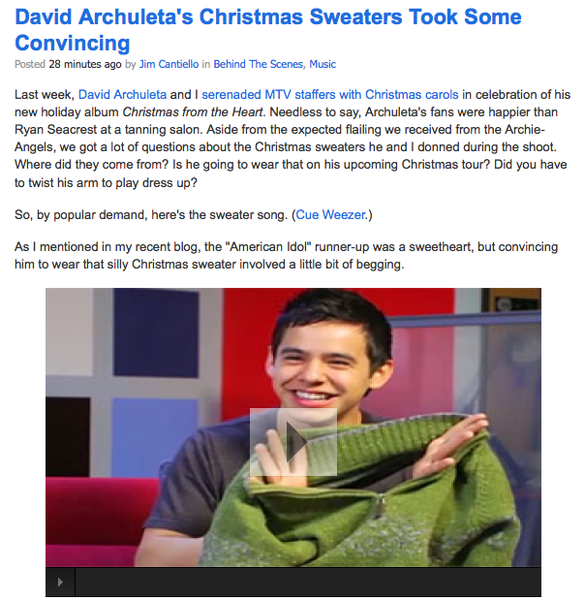 At the end of our sit-down interview — where we discussed both the Christmas record and his upcoming "more personal" pop album — it was time to get our yule on. Although David knew we were going caroling for the shoot, I'm not so sure he knew it involved props and a specific wardrobe. His defeated "Christmas ... sweaters ..." says it all. (Note the desperation in my voice mere nanoseconds after he sounded less-than-enthused.)
Being the gracious young man that he is, though, it didn't take too much cajoling to convince David to play along. He even added a scarf for flair! By the end of the shoot, Archuleta was so comfortable in the itchy old sweater that he almost left the building still wearing it, along with our microphone. Whoops! (Fun semi-related "Idol" journalist trivia: After a recent interview, Kris Allen left Z-100 wearing Entertainment Weekly's microphone, forcing EW.com's Michael Slezak to race out of the building and chase down Kris' car. Now that I think of it, I'm 99 percent sure Slezak did that on purpose to score an extra couple of seconds with the "Idol" winner. Sneaky!)
It pains me to admit it, but the red and green snowflake sweaters are all mine. I received them as a Christmas gift several years ago. Surprisingly, the questionable fashion came from a popular clothing store. (Hint: It rhymes with Sexpress.) I've cleaned my closet a half-dozen times since unwrapping the fugly beasts, yet I just can't part with them. Because you never know when you'll need a set of Christmas sweaters.
In 2009, they've certainly come in handy. Before Archuleta and I harmonized, they were the official wardrobe for Jim and Tim, the asexual twins (played by yours truly) featured on my old MTV recap series "Daily Detox."
While Archuleta won't be wearing this particular green snowflake sweater on tour, who knows? Maybe spending 45 minutes singing in itchy wool inspired him to pick up his own Christmas wardrobe before his tour kicks off on November 24 in Salt Lake City!