這幾篇報導看的我雞皮疙瘩不知道起了多少,大衛實在太精彩了!!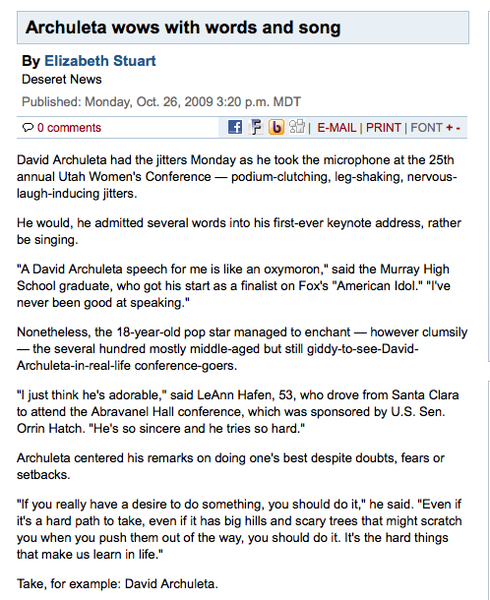 As a child, first lured into the world of music by a Les Miserables concert DVD, he sang because he loved the sensation of making music. People told him, "you have such a good voice," but he didn't believe them.
"I could not stand the sound of my voice," he said. "As much as I loved singing, if someone would play a recording back for me, I would run out of the room. I hated it. I'd cover my ears and scream."
The first time Archuleta appeared in a talent competition, he said, "I was so afraid to go on stage I had a panic attack."
Now, with two albums, a tour and a No. 2 billboard single behind him, Archuleta doesn't get too nervous when people ask him to sing. He only blushed a little when Monday's crowd started chanting, "Sing! Sing! Sing!"
"I'm sorry," he said, laughing as people snapped pictures from the audience. "Cameras intimidate me."
After a little coaxing and a direct prod from Hatch, Archuleta belted out a silky rendition of "O Holy Night," which is included on his just-released "Christmas from the Heart" album.
Women scrambled, clapping and hollering, to their feet.
"It was beautiful," said Heidi Hansen, 46, who lives in Springville. "I just melted."